Process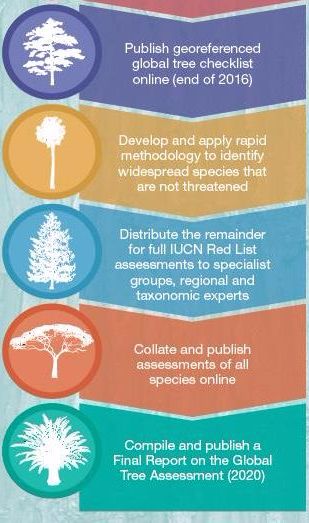 The Global Tree Assessment is already under way.
The first step was to assemble information on the world's trees to produce a global tree checklist with country distributions. In April 2017, GlobalTreeSearch was published, containing the names of 60,065 tree species distributions. This forms the backbone to GTA.
The identification of widespread and common species of low conservation concern began in November 2016. A process to identify and assess these species has been designed and is now being implemented.
GTA has identified the major gaps in red listing efforts and is currently working with several groups to encourage and assist in the production of tree assessments. This includes the training workshops in the Caribbean, East Africa and Southeast Asia and work on the assessment of selected taxonomic groups (Oaks, Maples, Ash).
The assessment of trees species is an ongoing and continuous process. Newly described tree species are being added to GlobalTreeSearch and taxonomy is being updated. Assessments are also continually updated as conditions and knowledge changes.